Fair Chance 2
Updated: January 13, 2015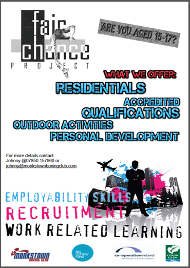 Wednesday 5th November saw the start of our second 18 week Fair Chance programme.
The programme works with young people between the ages of 15 and 18 on various areas of personal development, employability and good relations as well as offering accredited qualifications along with team building and youth leadership activities.
We are happy to announce that we are continuing our partnership with Colin Glen Trust for this programme, which will be again facilitated by Co-operation Ireland.