Paralympic Gold Medalist visits Monkstown Community School & Boxing Club
Updated: October 29, 2014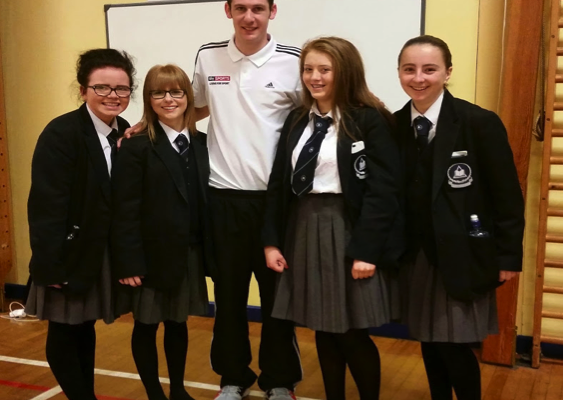 Double Paralympic Gold Medalist Michael McKillop provided Monkstown Community School pupils with a surprise visit through the Sky Sports 'Living for Sport' programmes partnership with Monkstown Boxing Club.
Michael spent a day with Year 8 and 11 pupils talking about his journey as an athlete with a disability, his challenges and also the opportunities that sport can provide for young people. As part of his visit Michael delivered various activities aimed at highlighting the importance of education and breaking down barriers to achieve your goals.
He spoke about his experience in school and how the dedication and commitment needed in sport helped him achieve GCSE's.
Stewart Kyle, Head of Physical Education at Monkstown Community School said:
"It is fantastic to see the energy and excitement in school following Michael's visit and hear of his journey to Paralympic success. At Monkstown Community School we believe that PE and sport has the power to change lives and further underscores the important partnership we have with Monkstown Boxing Club.
Paul Johnston, Youth Programmes Manager, Monkstown Boxing Club said:
"To be involved in the Sky Sports 'Living for Sport' programme is a great honour for the Club that provides inspirational stories from World Class athletes to get young people involved in sport."